---
Research Group in Ancient and Contemporary Philosophy
Three online workshops in August 2020. PhD students present work in progress, and offer peer feedback. For details please see below.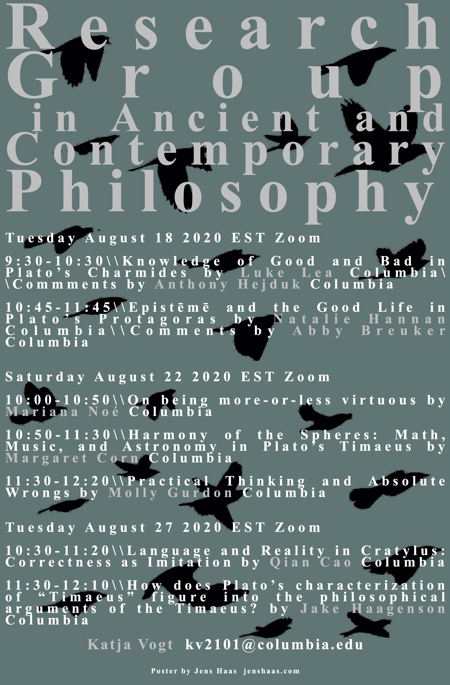 Tuesday August 18 EST Zoom
9:30-10:30: Luke Lea, "Knowledge of Good and Bad in Plato's Charmides" with comments by Anthony Hejduk
10:45-11:45: Natalie Hannan, "Epistēmē and the Good Life in Plato's Protagoras" with comments by Abby Breuker
Saturday August 22 EST Zoom
10:00-10:50: Mariana Beatriz Noé, "On being more-or-less virtuous."
10:50-11:30: Margaret Corn, "Harmony of the Spheres: Math, Music, and Astronomy in Plato's Timaeus"
11:30-12:20: Molly Gurdon Pinkoski, "Practical Thinking and Absolute Wrongs"
Tuesday August 27 EST Zoom
10:30-11:20: Qian Cao, "Language and Reality in Cratylus: Correctness as Imitation"
11:30-12:10: Jake Haagenson, "How does Plato's characterization of "Timaeus" figure into the philosophical arguments of the Timaeus?"
---
Junior Researchers Workshop in the History of Epistemology
Maimonides Centre for Advanced Studies Universität Hamburg, January 8 2020.
This workshop brings together junior researchers at the Maimonides Center for Advanced Studies as well as graduate students from Hamburg University and graduate students from Columbia University.
---
These activities are co-funded by Columbia University's Graduate School of Arts and Sciences, Classical Studies Graduate Program, and Philosophy Department.