Research Group in Ancient and Contemporary Philosophy
Two online workshops in August 2021, each with one presentation by a guest speaker and several presentations by PhD students. For details please see below.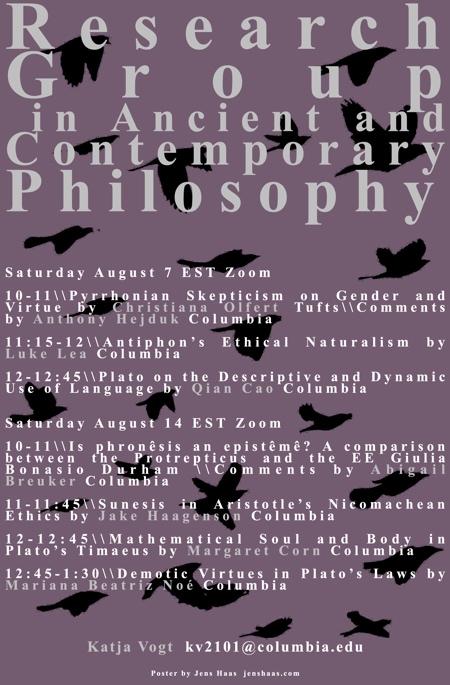 Saturday August 7 EST Zoom
10-11: Christiana Olfert (Tufts University), "Pyrrhonian Skepticism on Gender and Virtue" with comments by Anthony Hejduk
11:15-12: Luke Lea, "Antiphon's Ethical Naturalism"
12-12:45: Qian Cao, "Plato on the Descriptive and Dynamic Use of Language"
Saturday August 14 EST Zoom
10-11: Giulia Bonasio (Durham University), "Is phronêsis an epistêmê? A comparison between the Protrepticus and the EE" with comments by Abigail Breuker
11-11:45: Jake Haagenson, "Sunesis in Aristotle's Nicomachean Ethics"
12-12:45: Margaret Corn, "Mathematical Soul and Body in Plato's Timaeus"
12:45-1:30: Mariana Beatriz Noé, "Demotic Virtues in Plato's Laws"
---
These activities are co-funded by Columbia University's Graduate School of Arts and Sciences, Classical Studies Graduate Program, and Philosophy Department.