2022/23: Logic, Epistemology, Ethics, Metaphysics
The Workshop in Ancient and Contemporary Philosophy meets several times throughout the academic year. This year's sequence of sessions is devoted to themes in logic, epistemology, ethics, and metaphysics. Please find information about speakers, dates, and times below.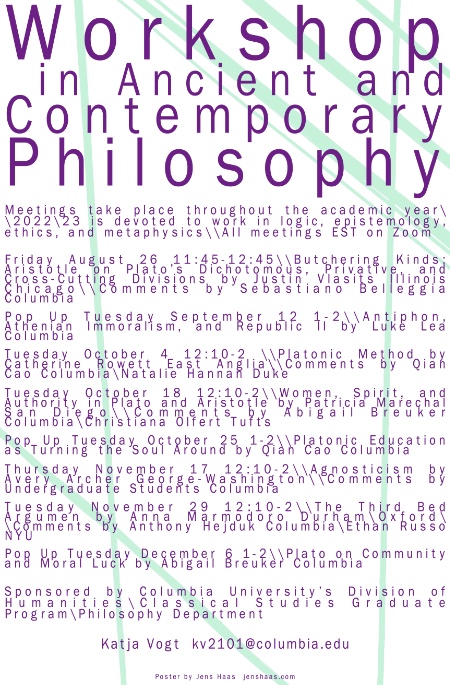 Friday August 26, 11:45-12:45 EST Zoom
Justin Vlasits (University of Illinois, Chicago), "Butchering Kinds: Aristotle on Plato's Dichotomous, Privative, and Cross-Cutting Divisions"
Commentator: Sebastiano Belleggia (Columbia)
Tuesday October 4, 12:10-2 EST Zoom
Catherine Rowett (University of East Anglia), "Platonic Method"
Commentators: Qian Cao (Columbia), Natalie Hannan (Duke)
Tuesday October 18, 12:10-2 EST Zoom
Patricia Marechal (UC San Diego), "Women, Spirit, and Authority in Plato and Aristotle"
Commentators: Abigail Breuker (Columbia), Christiana Olfert (Tufts)
Thursday November 17, 12:10-2 EST Zoom
Avery Archer (George-Washington University), "Agnosticism"
Commentators: Columbia Undergraduate Students
Tuesday November 29, 12:10-2 EST Zoom
Anna Marmodoro (Durham, Oxford), "The Third Bed Argument"
Commentators: Anthony Hejduk (Columbia), Ethan Russo (NYU)
Pop Up Sessions
In 2022/23, there will also be a new format: the discussion of work-in-progress by advanced PhD students in 1-hour sessions.
Tuesday September 12, 1-2 EST Zoom
Work-in-progress session with Luke Lea (Columbia): "Antiphon, Athenian Immoralism, and Republic II"
Tuesday October 25, 1-2 EST
Work-in-progress session with Qian Cao (Columbia), "Platonic Education as Turning the Soul Around"
Tuesday December 6, 1-2 EST
Work-in-progress session with Abigail Breuker (Columbia): "Plato on Community and Moral Luck"
---
Sponsors of this event series include Columbia University's Division of Humanities, Classical Studies Graduate Program, and Philosophy Department.